HELP
Installing And Running Supermodel On Windows
Step 1: Extract The ZIP File
Download and extract the ZIP file containing Supermodel. In the example below, I have placed the ZIP file on my desktop and am extracting it to the recommended location, a new folder named C:\Supermodel.
Step 2: Place ROM Files In Your Supermodel Folder
Download or transfer your Model 3 ROM sets (in individual ZIP files) to the folder into which you extracted Supermodel (e.g., C:\Supermodel). I cannot and will not provide assistance on how to obtain ROMs.
Step 3: Open A Command Prompt Window
For now, Supermodel lacks a user interface and must be operated from the command prompt. On Windows Vista and earlier versions, the command prompt is most easily accessed through the Run... dialog in the Start menu. Type "cmd" and press OK to open a command prompt. On Windows 7, the procedure is different. You may have to use the search utility to find cmd or cmd.exe.
Step 4: Enter The Supermodel Folder
We now need to move ourselves into the Supermodel folder. To change folders, use the cd (change directory) command as shown below. I have also included the output of a dir (directory listing) command, which you can use to orient yourself in the directory tree.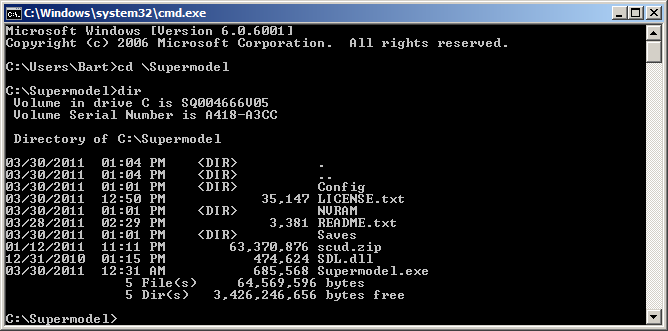 Step 5: Run Supermodel
Simply type Supermodel and press enter to run the program. Because no ROM set or options were specified, usage information will be printed to the command prompt. This describes how to run the program. Anything appearing between square brackets is optional whereas angled brackets indicate required parameters. Specifying a ROM file, for instance, is required. Issuing the command shown below (supermodel scud.zip -res=640,480 -show-fps) instructs Supermodel to load ROMs from scud.zip, run in a 640x480 pixel window (the Model 3 native, and default, resolution is 496x384), and display the frame rate.
For more information on running Supermodel, please proceed to the Usage section.